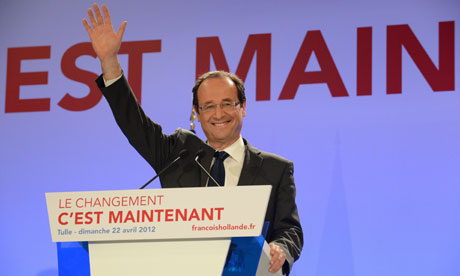 "Reporting on the efforts of House Republicans to cut domestic spending, including food stamps, in order to protect military spending,
Bloomberg
notes
that the annual cost of the food stamp programme, which is now serving forty-six million Americans, are projected to reach $80bn.
Quelle horreur!
Guess what we're already slated to spend on the Afghanistan war this year? $88.5bn.
Which is more important: making sure that forty-six million Americans - including children who have no say about anything - have enough food to eat? Or keeping the Afghan war policy on autopilot until 2014, even though we aren't accomplishing anything there that requires keeping 88,000 US troops in harm's way? "
Rightardia agrees with this assessment. the new french president Hollande, who is a socialist, is unlikely to stall the withdrawal of French troops. Obama is also unlikely to withdraw US troops form Afghanistan until after the election.
President Obama: The prudence of following Hollande's lead - Opinion - Al Jazeera English
Subscribe to the Rightardia feed:
http://feeds.feedburner.com/blogspot/UFPYA
Rightardia
by
Rightard Whitey of Rightardia
is licensed under a
Creative Commons Attribution 3.0 Unported License
. Permissions beyond the scope of this license may be available at
rightardia@gmail.com
.