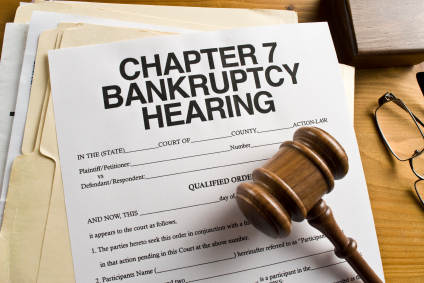 CNN estimates 200,000 to 1,000,000 Americans cannot apply for chapter 7 bankruptcy protection because they cannot afford the $1500 filing fee in federal court.
Chapter 7 of the Bankruptcy Code providing for "liquidation," ( i.e., the sale of a debtor's nonexempt property and the distribution of the proceeds to creditors.
It is the most common form of bankruptcy.
Among the schedules that an individual debtor will file is a schedule of "exempt" property.

The Bankruptcy Code allows an individual debtor to protect some property from the claims of creditors. This property may be exempt under federal bankruptcy law or under the laws of the debtor's home state. See 11 U.S.C. § 522.

The federal law permits each state to adopt its own exemption law in place of the federal exemptions.

However, the debtor will not be able to keep any property they are unable to make payments on. This means a debtor could lose a home, an expensive care or both.
There is also a 'one rule' If you have multiple television or computers, you will get to keep one. Personal jewelry and other luxury times may be confiscated.

Your property that is confiscated is then sold at auction to pay off creditors.

Think you are now out of the woods? The fact that you filed a chapter 7 will appear on your credit record for ten years.

Be aware, too, that the court may not grant you bankruptcy protection. You must meet certain criteria and appear credible in front of the bankruptcy judge.
graphic: bills.com
sources:
http://finance.yahoo.com/news/americans-too-broke-bankrupt-105500347.html
http://www.pennlawyer.com/ch7faq.htm#credit
http://www.uscourts.gov/FederalCourts/Bankruptcy/BankruptcyBasics.aspx
http://www.bills.com/chapter-7-bankruptcy/
Subscribe to the Rightardia feed:
http://feeds.feedburner.com/blogspot/UFPYA
Rightardia
by
Rightard Whitey of Rightardia
is licensed under a
Creative Commons Attribution 3.0 Unported License
.
Permissions beyond the scope of this license may be available at
rightardia@gmail.com
.