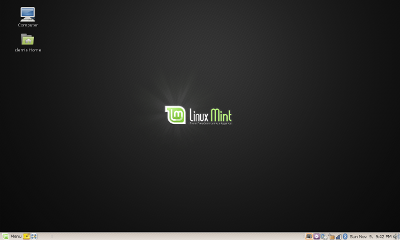 Linux Mint "Julia"
by Wirehead
Linux Mint (Ubuntu) has many new features. In the past, you had to configure Update Manager to identify how updates were handled.
In Linux Mint, there is a shield aplet on the bottom panel bar that indicates with a check mark if the OS has all of its updates. If the shield is blank, updates are needed.
In the Administration options there is the Gufw, a graphical front end to UFW (Uncomplicated Firewall), which has a lot of pre-configured rule options that makes it easy to configure the Uncomplicated Firewall built into Ubuntu.
Based on Ubuntu 10.10 Linux Mint "Julia" comes with a brand new "Software Manager", FTP support in mintUpload, proxy support and history of updates in mintUpdate, mint4win (a Linux Mint installer for Microsoft Windows), tabbed browsing in Nautilus and a lot of other improvements.

MintUpdate 3, a brand new Update Manager: New GUI, history of applied updates, proxy support, improved stability The Linux Mint Update Manager "mintUpdate" was refactored and its graphical interface was redesigned from scratch.

MintUpload 2, with FTP supportMintUpload is the little tool which pops up when you right-click on a file and select upload .

Until now mintUpload was mostly used as a way to share files by uploading them to a public place somewhere on one of Linux Mint's servers and by sending the corresponding URL to friends and family members.

Some people also bought Mint-Space accounts and were able to set up mintUpload to add an additional upload service to it. These people could use their 1GB of Web space and have their files kept there indefinitely.

Initially mintUpload was designed with novice users in mind, people who wanted to share large files with each others and who didn't know what FTP meant or where to get free web space to store them. After gathering some feedback, we've come to realize that mintUpload also got popular with experienced users. So we added FTP support to MintUpload by defining another type of service and letting the user define his own FTP services.


MintNanny - Minimal parental control: One of the features Mint has been lacking as a family desktop is the ability for parents to prevent their children from accessing certain websites.

Parental control is easy to set up in Microsoft Windows and we got a lot of feedback from people who migrated to Linux and who missed this feature.

Of course one could install DansGuardian and a few other packages but its not easy, it usually requires the use of a proxy and it also quite complex to configure. For Linux Mint 6 we came with a compromise and we decided to implement a minimal set of features but to make it as trivial to use as possible. So here comes mintNanny.


MintNanny is a small graphical interface which lets you block domain names. When you block a domain in mintNanny it basically adds an entry to your /etc/hosts file and defines that domain's IP address as being 0.0.0.0. Remember that mintNanny blocks domain names, not IP addresses so if your children are smart enough to ping the domain from another computer they'll be able to access it via its IP address.

Mint4win - A Windows installer for Linux Mint: If you run Microsoft Windows, insert the liveCD and a program called mint4win will launch automatically. This program is an installer for Linux Mint which runs on Windows. It installs Linux Mint within a file on one your partitions and it doesn't touch your existing partitions. It also sets up a Windows multiboot for you.
Of course the performance won't be as good as if the system was installed in its own partition but if you just want to give Linux Mint a try this is a very good option. You can remove mint4win from the Add/Remove applications tool within Windows and this will remove Linux Mint and restore your boot exactly as it was.
New software
Giver
is an amazing new tool which lets you send files from one computer to another on a local network.
Drag and drop files into Giver and the recipient is immediately notified.
Giver now comes pre-installed on Linux Mint. If it proves popular it will also come pre-loaded in the future.
Gufw
is an easy and intuitive Firewall configuration tool which now comes pre-installed in Linux Mint.
Subscribe to the Rightardia feed:
feeds.feedburner.com/blogspot/IGiu

Netcraft rank: 14896
http://toolbar.netcraft.com/site_report?url=http://rightardia.blogspot.com